"Hey, is there going to be a party before you go?" I asked Ivan, when I ran into him in the lounge.
"Yes, I think tomorrow," he said. His accent and careful pronunciation of English words makes him seem more solemn and serious than he is.
"What time?" I asked.
At this point, Val jumped in. He's been grinding on his boat for over two weeks, a grueling and exhausting job. "Let's start at noon…two pm…" he said with a grin. I rolled my eyes, knowing full well that boat work comes first, and parties don't start around here until at least 5 or 6 pm.
So around 6 pm, we headed over to the dock where Kuhelli was moored, her extra-large Swedish flag snapping in the breeze. I'm going to miss that flag — putting it up on the backstay was one of the first things the crew did when they arrived. It's been windy every day for the month they were here, and the flag danced with an exuberance like that of the crew.
I remember their arrival more vividly than most of our neighbors. It was April first, and we'd been spending the evening wishing Blaine and Suzy farewell. It grew cold and very late as we sat around the picnic table, sharing wine and stories. Past midnight, a car pulled up across the way at a boat that had been stored for some time. Several people got out and got a ladder and climbed on the boat. Even in the dim light, we could see that they were not average cruising-boat owners. Much too young.
Were they thieves? Vandals? Should we confront them?
They showed no signs of taking anything from the boat, so we decided to leave them alone.
For the next few days, half the gossip was about Blaine and Suzy's departure, and the other half was about the three 20-something Swedish guys who'd come to fix up an older Halberg-Rossy and sail it back to Sweden. Ivan was the owner, with Lowe and Sigfrid as his friends and crew. (It actually took us forever to get their names straight — Ivan is pronounced "Even," and Lowe sounds like "Loova").
Anique teased them about their accents. Sigfrid came in one day, asking about jello. Jello is not a normal item in a marine chandlery, so she was completely flabbergasted. It finally turned out he was mispronouncing "yellow!" He need the pigment for his gel-coat repairs.
Like the young 3-man crew on Catania, they had boundless energy, and got more work done than any of us old-timers. Even after working well into the night on the boat, they would get up in the morning and go running. They scampered up and down the ladder like monkeys, taking it two rungs at a time going up and coming down frontwards with no hands. I saw Sigfrid doing push-ups on the dock and Ivan shinnying up the mast without benefit of a bosun's chair or halyard.
One evening, we sat down and shared a meal, and we learned that they'd never been to the US before. Their impressions were fascinating, since they'd flown into Washington, D.C., driven straight to the boat, and not seen anything but coastal North Carolina since.
With Val and John, we tried to dispel some of their myths about this place we call "America," going into heavy topics like immigration and politics and economics. Val has lived in Hawaii and Florida, and John has lived all over the US and sports Wyoming plates on his van, so it was a lively conversation about how different the rest of the US is from Beaufort, North Carolina.
One thing they did not like at all: The food. It took them several weeks to realize that Piggly-Wiggly was not the only grocery store, which would give anyone a bad impression of American food. They were amazed by the number of obese people and disturbed by the stuff sold as bread. Even when I brought them the best bread in the area, from the Havelock Swiss bakery, they were polite, but said it was not as good as Swedish bread.
They splashed the boat three weeks after they arrived, making me green with envy. But that was not going to keep me away from the bon voyage party.
Ivan had one more job to do up the mast, and Lowe quickly hauled him up to spreader height. We lounged on the dock, watching Ivan work and waiting for the barbecue to heat up. It was a perfect spring evening on the water, just enough wind to keep bugs at bay without blowing the brownies and salad away.
Sigfrid came back — he's the most garrulous of the three. "As soon as we eat, we have to go get diesel. You're all welcome to come along," he said.
The party on the dock was starting to pick up momentum when Ivan looked at his watch and headed for the boat. Barry and I joined the three guys, and we steamed away from the dock.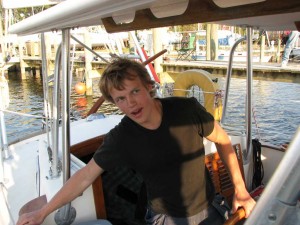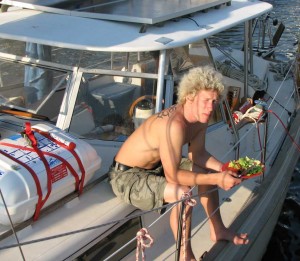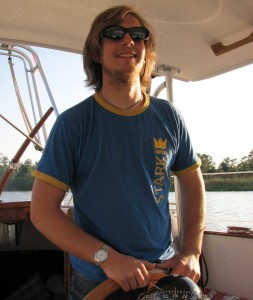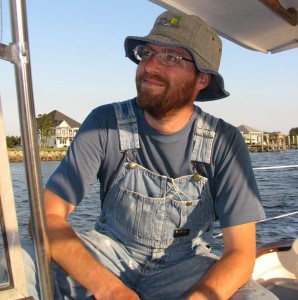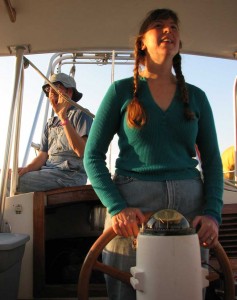 It was only a couple of miles up the waterway to Seagate Marina, but we snapped a lot of pictures during that time. It was, after all, Kuhelli's maiden voyage with her new owner. I was honored to be aboard for the occasion and felt vaguely useful because I knew approximately where the fuel dock was.
When we returned to the dock, the party had grown.
"This is the second time I've been on a boat, underway, in a week!" I said to Audrey. She sighed with envy. Desiderata has been here for over three and a half years, and she and her husband have been distracted from their boat work by all kinds of health issues in that time.
The other crew that joined the festivities was from Happy Hour, a boat smaller than ours with two parents and four children aboard. At one time, they had even cruised with their two older siblings aboard, and I was curious to know how they found bunks for eight.
The answer was a forward cabin (two kids), two settees (two kids), an aft cabin (privacy for two parents), and a bunch of cushions on the floor for the remaining two. I wondered if they all had bruises from stepping on each other!
Compared to that, the crew of Kuhelli had luxurious accommodations, with a private aft cabin, a v-berth, and an enormous dinette. Their center cockpit has a hard dodger and a full hard bimini as well, so they'll be protected from the waves offshore.
That cockpit was big enough for the whole lively party. Listening to the chatter, I thought of how we'd been at a farewell party when Kuhelli's crew arrived. I looked around, but the boats in the yard were quiet. Just as well, it would be hard to top this.
But not for the crew of Kuhelli. In addition to an offshore passage to Sweden via the Azores and Ireland, they plan a stop in New York City.
Just after dawn, I heard a horn. I stuck my head out the hatch and waved as the boat slipped away. The time they shared with us was just Part One of the adventure — the rest is still to come, and they're going to enjoy every minute of it.
Kuhelli's website is in Swedish, but has lots of great photos: http://svenskavinnare.se/gallery/main.php?g2_itemId=12 (or you can chuckle your way through the machine-translated English version)
Sigfrid also has a great photo site here: http://picasaweb.google.se/sigfridj ("alantseglingen" are the photos of his trip to the USA)