Most of the boats in the yard stand mutely on their jackstands, leaving us to wonder, "What's the story here?" Our only clues are the boat's position, her condition, home port, and the detritus on the ground underneath. That, plus a little watching, snooping, and gossiping.
At 27 tons, the ketch Wind Lore towered over us on her jackstands. I'd once parked the Squid Wagon in her shadow to do an oil change, and wondered about the varnished teak and homeport of Shelburne, Nova Scotia. She was in excellent condition, and there was nothing stored underneath to give us clues.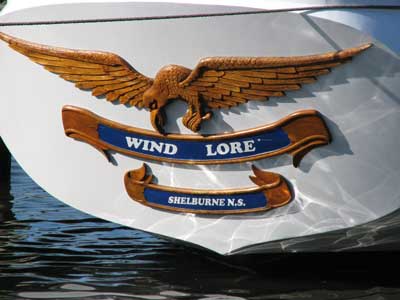 Then, one Sunday morning, our watching yielded some information. In a flurry of activity, a white PT Cruiser pulled up and a family piled out. They stood looking up at the boat, taking pictures. Then they drove away.
"Hmmm…maybe that boat's for sale?" I wondered out loud.
A few hours later, a beige Toyota Camry arrived with what looked like a rocket launcher on top. Three more people got out, this time climbing onto the boat via a very tall ladder.
Now I had two pieces of information, and I said, confidently. "Those must be the owners, getting it ready for the sale."
I was absolutely and completely wrong.
That day, we met Rick and Mary Jane, Wind Lore's owners, and Frank, Mary Jane's father. They had about a week of projects on their list, and then they planned to launch the boat and cruise down to New Smyrna Beach, Florida.
But what about the people in the PT Cruiser? Like us, Rick and Mary Jane were mystified. Barry and I still marvel at the coincidence, having boatyard strangers take such an interest in that particular boat just hours before Rick and Mary Jane arrived.
The next day, we received a coveted invitation to climb the sky-scraping ladder for a visit aboard the boat. Sitting in the salon with a glass of wine, the companionway seemed very familiar — Rick pointed out that it was a Formosa, the model of boat featured in the cult sailing film Captain Ron. We all laughed about the fact that the crazy engine room in the movie wasn't authentic, it was a set. And the infamous shower scene wasn't filmed on the boat, either. Dang.
In the next few days, among conversations about projects and people and boats and places, I asked an innocent question. "Will you leave your car here when you go to Florida?"
"We'll have to come up and get it, I guess," said Rick. "You want to take a road trip?"
"Oh, yes!" I sang out. Barry was looking askance at me, but he knows that I won't miss any opportunity to visit my Dad in Florida.
After Wind Lore slipped her lines and headed south, a massive cold front came through, making their trip down the ICW a chilly one. Back on Flutterby, our progress was slowed — our Awlfair wouldn't "kick," and it was no use applying paint in these temperatures. Not to mention how miserable we were, personally, huddling in the van with a tiny space heater.
Finally, the cold eased, but then came torrential rains, three inches in one night. When we awoke on Election Day, our boat sat between the Intracoastal Waterway and something I call "Lake Bock." In the past, I've jokingly called our location "puddlefront." We took off our socks and wore sandals, wading through ankle-deep water as we packed the car.
Then we got into the Camry with the rocket launcher (actually a rooftop gear carrier) on the top and headed for I-95. When we arrived at New Smyrna Beach and Wind Lore, 11 hours later, Mary Jane had dinner for us, and our Canadian friends were patient with us as we watched the election returns.
At some point in the evening, Mary Jane turned to me and asked, "Did you know we just had an election?" I was embarrassed. "Er, not really." Less than a month ago, the Canadians held a Federal election, just as important to them as ours is to us. Turnout was the lowest in Canadian election history, perhaps because of all the noisy campaigning going on just to the south.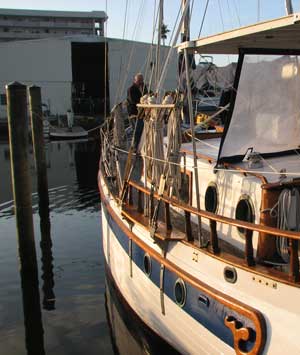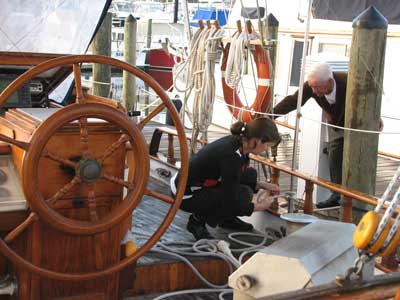 The following morning, I awoke refreshed after a night on their glamorous boat. I looked around at the hand-carved teak doors, the sunshine pouring into the spacious salon, and the palm trees ashore. I could hardly believe my luck as I put my jeans and raincoat away and changed into shorts.
Rick and Mary Jane thanked us profusely for saving them a trip back to North Carolina for their car, but that seemed unnecessary to me. The pleasure, actually, is ours.