Nick sails Valkyrie, peaceful, serene,
With the engine turned off, no machine,
Breaks the stillness, the quiet,
Til he creates a riot,
With his blender, which burns gasoline.
With a sound like a loud chainsaw roar,
Our Lake Union's not peaceful, no more,
"Margaritas," I say,
"Over two miles away,"
It's Saint Nick, giving alms to the pour.
We went out on Flagrante Delicto to watch Duck Dodge (for you non-Seattlites, it's a very silly sailing race) last night, and were greeted in limerick form by Blender Boy Nick. Here's a picture of Valkyrie's crew (don't ask me how Nick can steer with this many people in the cockpit!).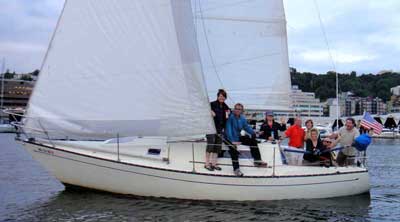 The theme for last night's race was "Bastille Day Night," which inspired these clever sailors to install a guillotine. Now I know where to put one if I ever need one.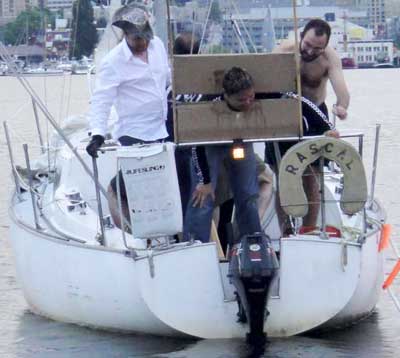 Our captain for the evening, buttoned up against the weather in his MG-B. He says that at 30 mph, the rain just goes over his pith helmet, and he cleverly pulls out an umbrella at stoplights.