The conversations went like this: "You hungry?" "Yeah, I could chew my own leg off." "Peanut butter OK?" "Absolutely!" And dinner would be peanut butter on tortillas on our laps. Again.
For two months, since our return from Burning Man, we'd been camping out. We slept in the back of the van and set up an outdoor kitchen under the boat. Our days, and evenings when we weren't too tired to hold up our heads, were spent working.
Over the summer, we had removed every piece of hardware from the deck and temporarily sealed over 100 holes. By September, it was time to grind the rotted core around those holes, removing fiberglass and balsa and making horrible clouds of dust. The work required full protective gear, all the time — Tyvek suits, gloves, and respirators.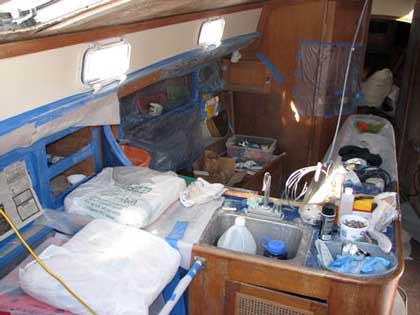 We emptied the boat of everything but tools. Our rented storage locker was crammed to the ceiling, and the boat was surrounded by plastic tote bins. The van was a total disaster, heaps of clothing divided into categories like "boatyard-skanky" and "going-to-town." I nearly died of embarrassment when I thought I was going to a drive-thru with a friend, and we ended up at a pizza place instead. I was wearing boatyard-skanky instead of going-to-town clothes.
But the real storage challenge was the camp kitchen, located under the bow of the boat. The problem was, I just couldn't stay ahead of the conditions.
When we first moved out of the boat, I fretted about the sun melting my chocolate. We rigged a tarp over the table, and within 24 hours, high winds had ripped it to shreds. So now I had to worry about hot sun and high winds.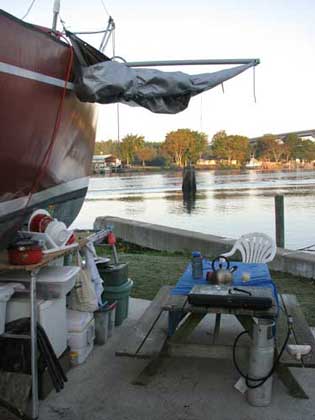 I began the daily shade-shuffle: Moving my food bins from place to place several times a day, just to keep them cool.
After sun and high winds came the bugs, tiny, insidious flies that climbed into my bins and tried to get into my food. Now, in addition to working on the boat and shuffling my bins around, I had to clean the bins and repackage the food.
The days got shorter, so cooking had to be done in the dark with flashlights. I really hated those little bugs. They were completely invisible on a black skillet at dusk. Good thing I'm not a vegetarian. Good thing it was daylight when the black widow spider crawled into the Britta pitcher.
Then came the rains. I had put my canned goods in a big old cooler (no ice), and guess what? The cooler leaked! Now I had a nice collection of rusty cans. But there was some consolation — the bugs drowned, and I didn't have to worry about keeping food in the shade — there was no sun.
The winds came back, and without a tarp over the stove, we couldn't cook. Now things were looking a bit grim. We spent hours sitting in the van, knees against knees, watching the rain blowing sideways and fighting over the computer. Peanut butter tortillas began to appear more frequently on the menu.
The final straw was the cold. The van was warm, with a tiny space heater keeping us comfortable when the temperatures dropped into the low 20's. But what about the kitchen? Grumbling, I bundled up and went outside, with a flashlight, to pack insulating items like flour and rice around glass bottles of vinegar and rose water.
When it was over — we moved back aboard the day before Thanksgiving — I realized that the camp kitchen had thrown challenge after challenge, but nothing insurmountable. There were no bears, no raccoons, and no food went bad. We didn't starve or suffer vitamin deficiencies, and we only had to order pizza twice in two months.
Besides, the location was awesome. Our borrowed picnic table sat right on the water, so we could watch the parade of boats on the ICW. When dolphins came, especially at night, we heard them before we saw them. We were even far enough from most other people to give us a little privacy.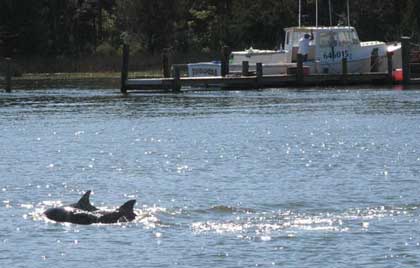 With the exception of no HVAC, poor cabinetry, a too-small refrigerator, and a leaky roof, we actually had an ideal kitchen. It had plenty of counter space — thanks to Val and Gigi. It had a great propane stove — thanks to Kris. It had a double sink (two dishpans) and running water — a half-gallon plant sprayer someone had abandoned at Burning Man. What more could you ask?
The next time I catch myself complaining about conditions, feel free to stop me. There are many people out there who don't have peanut butter or rusty cans of artichoke hearts, or chocolate. We should all be so lucky.