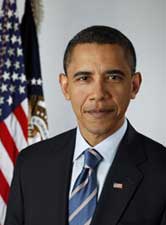 If you think that equality's great,
And you wish for a world free from hate,
And you have curly hair,
And your first name is Claire,
Here's your present! It's just one day late.
Claire's birthday was the day before the inauguration of Barack Obama. The photo above is Obama's official presidential portrait, which we'll be seeing in federal buildings while he is in office. It's the first presidential portrait taken with a digital camera.