We've done so much traveling this year, together and apart, that we decided to stay here in the boatyard for Christmas. Theoretically, we're supposed to be working on the boat, although the weather and our respective cases of bronchitis are hampering our efforts. I hate the thought of coughing into my respirator.
I got a little sad this evening, thinking about our plan to stay here on the boat. Our liveliest boatyard neighbors, Charlie and Dick, have gone back to Ohio to be with family. Our best friends in town, Ted and Malla, slipped Ocean Gypsy's lines and headed south for the winter on Monday. Between the four of them, they've left us two boats and ten vehicles. That's enough to open a used car lot!
Bock Marine threw a fantastic Christmas party, but it was over too soon. They'll be closing down for a whole week. Without Randy and Larry and Dale and Kenny, the place is dreadfully dull. Minutes seem like hours. And there isn't even mail delivery to distract us. No Christmas cards. No packages. Sigh.
For me, the hardest thing will be simply spending these days without any family. We love Mom, both our Dads, Grandma, and all our siblings and nephews and niece — and we have never, ever, ever in our lives spent a Christmas without at least one of them. I spent some time today looking at photos and videos from past Christmases, seeing how the sheer joy of being together is reflected in our faces. Not this year. Sigh.
A few days ago, I received an email asking what my favorite Christmas traditions were. I was initially stumped, having no decorations, no lights, no tree. With two people, how can we eat a whole butterscotch pie and a roast turkey? I sat here, sighing, in my Santa hat, wondering if I even have Christmas traditions this year.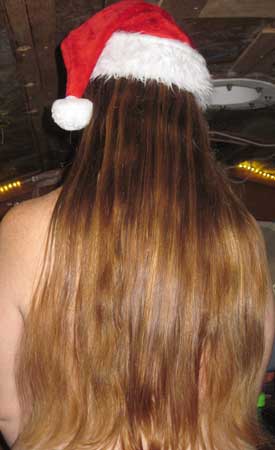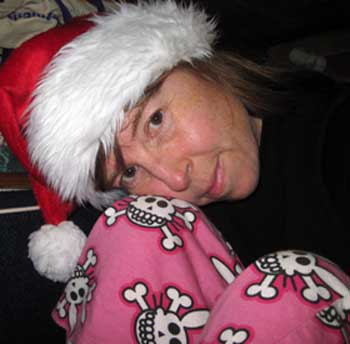 In my Santa hat? There's a tradition! We wear our Santa hats all the time in December. When it's warm, don't come on the boat — we might not be wearing anything with them. When it's cold, my Santa hat goes great with my pink Death Bunny pajama pants. Which I sometimes wear out in the boatyard, just for grins.
How about making homemade cards every year? Sometimes they don't go out until February, but I've never bought a Christmas card in my whole life. Our lengthy holiday card list is like the Hotel California. Once you are on it, you're stuck for life.
And then there are the homemade presents. We've made mustard, soap, jam, apple butter, signs, jewelry, baking mixes, bookmarks, spiced nuts, and refrigerator magnets. We've burned some very strange CD collections (anybody remember "Goin' to the Dogs?"). This year, I wrote four whole books.
And then there's the calendar, a 5-year tradition. It's a week-long project, because I seem to get sick just after Thanksgiving every year anyway. I might as well sit at the computer and design a calendar showcasing this year's best photos.
I wish we could give one to every friend, every year. It gets harder to decide how many to print and where to send them. Rumor has it that one family member likes hers so much, she keeps the old ones hanging up and pastes new dates onto them.
The past week on the boat, I've been on elf-duty most of the time. I designed the calendars and cards, and Barry helped me assemble and wrap and sign them. We made some goofy presents, burned some silly CDs, and wrapped them in old road maps because I refused to buy wrapping paper. I forgot I was wearing my Santa hat at the post office, and wondered why everyone was smiling at me.
It's going to be a great Christmas. I've spent the past couple of weeks thinking of ways to make people happy, and now the envelopes and packages are winging their way across the continent. My thoughts turn to our friends who are staying in the boatyard for Christmas — John, Philip & Marilyn, Audrey & Ward (whose nickname is Scrooge, but I don't believe it). What can I do for them? And especially for Barry, who got me the Death Bunny pants?
Generosity — that's my holiday tradition. Taking the time to let people know I love and appreciate them, no matter how far they are from me and my Santa-meets-the-Death-Bunnies outfit.