It's been eighteen whole years since that day,
When we stepped to the bar just to say,
"Yep, I do," "I do, too,"
"Here's a ring just for you,"
And our friends raised their drinks and said, "Yay!"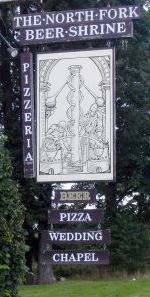 The day before our 18th wedding anniversary, we stopped to investigate a place on Highway 20 called the Beer Shrine and Wedding Chapel. It reminded me of the fact that when we were married aboard the Flying Cloud, the wedding was actually performed under a palm frond arch in front of the bar.
Barry and I learned many things during our visit to the Beer Shrine and Wedding Chapel. We found out that lots of people like the pizza there. We heard from the owner that she is licensed to perform marriages and does about 30 per year, right there in the bar. We confirmed that Barry likes homemade root beer. We confirmed that Margaret does not like beer. Most importantly, we discovered that Barry does not like beer-flavored kisses — so root beer is the only way to go!